IMPORTANT NOTICE: Stourview Closure
Stourview will be temporarily closed until further notice.
We apologise for any inconvenience caused.
IMPORTANT INFORMATION
IMPORTANT INFORMATION: BLOOD TESTS
Dear Patients
We have an urgent situation with being able to complete some blood tests. This is caused by our supplier, Roche, being unable to deliver some chemicals needed for this process. This is a national problem.
We need to prioritise clinically urgent tests. This means that if you are having a regular blood test, it may be delayed. We are very sorry about this.
If you are worried and you have been told your blood test is urgent, please contact the person who referred you, your GP or your Consultant.
Managing queries will mean that your Practice or Hospital team is busier than ever – please be as patient as possible – they will be working incredibly hard to support you.
National teams are working with Roche to sort this problem out and we will keep everyone updated as the situation changes.
We do understand that this may worry you and is very inconvenient, so please do get in touch with our PALS team if you wish to discuss this further. Their number is: 0800 389 6819 and their email address is: pals@suffolk.nhs.uk.
!!ADVANCE WARNING- SURGERY CLOSURE!!
WEDNESDAY 04 November 2020
THIS SURGERY WILL BE CLOSED FROM 12.30PM
OUR DOCTORS AND NURSES ARE ATTENDING A
MANDATORY TRAINING UP DATE
WE WILL HAVE NO DOCTORS OR NURSES HERE ON THIS AFTERNOON
IF YOU REQUIRE A DOCTOR, PLEASE TELEPHONE THE
111 SERVICE FOR AN APPOINTMENT OR ADVICE
WE RE-OPEN AS NORMAL FROM
8AM ON THURSDAY 05.11.2020
YOU CAN COME TO HAND IN YOUR REPEAT PRESCRIPTION IN THE POST BOX ON THE FRONT OF THE BUILDING.
DROP OFF A SAMPLE UP TO 2PM.
ALL SICK NOTES ARE NOW POSTED TO YOUR HOME ADDRESS
MEDICATION CANNOT BE ISSUED BY THIS PRACTICE
FROM 11.30AM THIS DAY
SORRY FOR ANY INCONVENIENCE CAUSED
SORRY FOR ANY INCONVENIENCE CAUSED
WE ARE STILL OPEN!
We are open and here to help you, please telephone the surgery if you need to speak to a doctor or need an appointment with a nurse. If you currently feel anxious or worried and need advice, we are here for you. We are working in a slightly different way by offering a telephone triage service to keep you and our staff safe during this pandemic. If the doctor feels that you need to be seen, you will be invited down to see us. Our eConsult service is available 24/7 if you need advice, a sick note, repeat medication etc. Please see our home page for the eConsult banner.
UPDATE ON CORONAVIRUS (COVID-19) OUTBREAK (28.4.20)
The surgery is not closed. Due to the Coronavirus (Covid–19) outbreak we are operating differently so that patients can be dealt with efficiently and safely.
The majority of patients will be called by telephone on the day and invited in if necessary. Patients can also use the e-Consult service which is assessable via the website www.haverhillfamilypractice.co.uk.
Prescriptions and sick certificates can be requested using the slips which are located in the surgery's foyer. Alternatively, prescriptions can be requested using the online service and sick certificates can be requested via e-Consult. Sick certificates will be posted to patients.
All patients attending the surgery will be asked the reason why they are attending and if they enter the premises their temperature will be taken by one of our nursing team.
Many thanks for your support during this difficult period.
Haverhill Family Practice.
Flu Season has arrived!!
Walk-In Flu Clinic (Over 65's Only) – NO APPOINTMENT NECESSARY
Saturday 31.10.2020, 07.11.20 and 14.11.20– 8.30am-11.00am
· Please be prepared to queue to attend this clinic.
· Come to the rear of the practice to book in with a nurse.
· Limited onsite parking is available. Please do not park outside the front of the building as Traffic Wardens are on patrol!
· Wear clothing that is easy for you to remove, so we can access your arm for your injection.
· If any members of your household are 65 or over and a patient at this practice, please ask them to attend with you for their vaccine.
· Wear a face covering and adhere to social distancing measures.
PLEASE NOTE THIS IS ALSO FOR SHIELDED PATIENTS WHO HAVE RECEIVED A LETTER FROM THE GOVERNMENT ADVISING THEM TO SHIELD DURING THE PANDEMIC.
Vaccines are now in for patients under the age of 65 with a chronic condition (asthma, diabetes, immunosuppressed etc) and pregnant ladies. You will need to telephone to book an appointment to attend a Saturday morning flu clinic between 8.30 and 11.00am due to diminishing supplies. Further deliveries are expected on 13.11.20. If you cannot make the Saturday clinics, come to the surgery and ask for one on the day. This is the same for all of the other clinics too.
Walk-In Flu Clinic (Eligible Children Only) (Nasal Vaccination)
If your child is 2 years old before 01.09.2020 and up to the age of 4 before 01.09.2020, we can vaccinate them at the practice.
The school your child attends will also be offering a vaccination programme for those aged 4 after 01.09.2020.
If your child has any long term conditions, ie. diabetes, asthma, immunosuppressed etc, we can vaccinate them up to the age of 18 years on Saturday 31.10.2020, 07.11.2020 and 14.11.20 – 8.30am-11.00am.
Government guidelines state that due to Covid-19, patients who are in the age range 50-64 years, who would not normally be eligible for the vaccine, will have access to vaccines in November 2020. We will keep our website updated to give you more information on this as it becomes available to us.
For further information on vaccination programmes please go to:
https://www.nhs.uk/conditions/vaccinations/flu-influenza-vaccine/
Should you wish to decline the vaccination programme this year in any age range/group – please telephone the practice to inform our receptionist who can update your records accordingly.
Important message for our patients: Face Coverings
PLEASE NOTE: We are not issuing letters for patients for facemask exemptions. You are very welcome to use our standard respone just drafted: "There is no requirement for a letter or certificate in relation to the wearing of face coverings. We will not be providing letters for facemask exemptions. Please see gov.uk website for more information (https://www.gov.uk/guidance/coronavirus-covid-19-safer-travel-guidance-for-passengers#exemptions-face-coverings)
In accordance with the new guidance issued by the government this week, we are now asking all our patients to wear a face covering if you come to the surgery for an appointment or for any other reason.
This will protect other patients in the waiting area and our staff. All our staff will continue to wear PPE including surgical masks for all patient face to face appointments.
The new advice on the use of face coverings by the Government is as follows:
People should aim to wear face coverings on public transport and in some shops.
Also in other "enclosed spaces where social distancing is not always possible and they come into contact with others that they don't normally meet"
"Social distancing" means staying more than two metres away from someone.
We feel that the practice cannot always ensure social distancing of 2 metres so therefore we must ask all our patients to wear a face covering as they come in through the door. Face coverings should be worn and not surgical masks or respirators which should be left for healthcare staff and other workers who need them.
The government advises washing your hands or using hand sanitiser before putting on and after takin off face coverings.
Homemade masks are not necessarily intended to help the wearer, the government says, but they could help stop you inadvertently passing on the disease to others if you have it but are not showing symptoms.
If you do have coronavirus symptoms- such as a high temperature or continuous cough, you should stay indoors and isolate at home.
Whichever face covering you use, they are not a substitute for other lockdown rules. Hand hygiene is just as important as before- so washing your hands with soap for at least 20 seconds when you get home.
People do not need to wear face coverings where they are:
Outdoors or while exercising
In schools
In workplaces such as offices and shops
Children under two or primary aged children who cannot use them without assistance
People who have problems breathing while wearing a face covering.
NHS Covid-19 App
The practice now has a QR Code for entry into the premises. Therefore, we would be grateful if you could download the app and use this on entering the building. Please see the following information. If you are unable to do so, please advise us when you arrive at our reception and we can update your records to advise you do not have the app.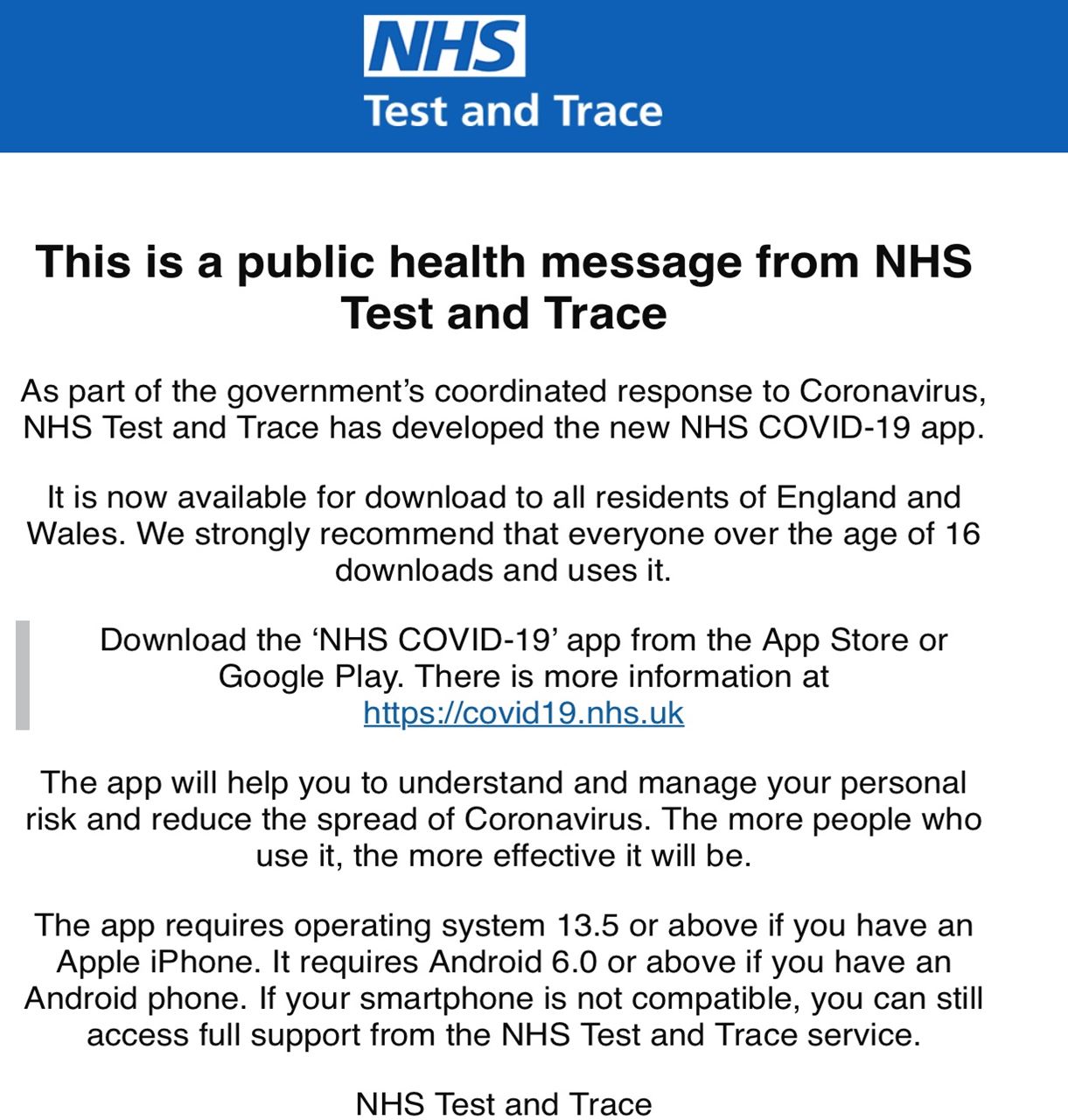 Social Distance and Appointment Times
Please do not arrive any earlier than 5 minutes before your appointment time. For social distancing reasons, we are only allowing a few patients in and out of the practice at one time. Therefore, if you are too early you will be asked to wait outside the building until just before your appointment time. We are currently letting patients in at the front of our building and exit at the rear via the practice car park.
On entry to the practice, we request that you clean your hands with the sanitiser provided, ring the buzzer and speak to our receptionist who will let you in. Please wear a mask to any appointment you have at the practice. If you do not have a mask, we may be able to supply you with one, but we do recommend that you purchase one. These are available in local supermarkets near the pharmacy counters. Please re-sanitise your hands on entry to the practice and take a seat in the waiting room where the clinician will come and collect you.
Thank you for your attention to this notice.
17.06.2020
Covid-19 Antibody Testing
Antibody testing for Covid-19 may be available for patients in approximately 6-8 weeks from now and is not part of your routine general blood testing.
We will update this notification once we know more from WSCCG.
Please do not telephone us about this at the current time, further details will be confirmed on our website when available.
Thank you for your attention to this notice.
Haverhill Family Practice
31/05/20
Are you aged 70 to *79 - if yes, you may be eligible for a shingles vaccination - *please speak to reception to check your eligibility.  
Suffolk Family Carers
Do you look after a partner, relative, friend or neighbour?
You're not alone! We can help.
Come along to our Family Carer Session for:
Family carer related information, support with your health and well-being, advice on benefits and lots more...
It's FREE and open to all residents of Haverhill.
We are at Haverhill Family Practice from 9-12am on the fourth Thursday of every month.
For more information contact:
Emily Meadows: Tel: 07557630965 or email sally.read@suffolkfamilycarers.org
Staff at HFP making a difference!
DUE TO COVID-19 THIS EVENT HAS BEEN POSTPONED.
Nurse Practitioner, Dawn Gaforg, will be taking part in the MoonWalk Iceland in June 2020. This involves walking 26.2miles, starting at midnight, all in aid of an extremely worthwhile cause. All the money raised will go towards vital breast cancer causes and helping fund research, specifically for secondary cancer. As well as raising money, increasing awareness of breast cancer is incredibly important and we hope to do this.
Dawn and all of us at Haverhill Family Practice would appreciate any donation, no matter how big or small, you could make towards this worthwhile cause. Please click on the link below to donate.
Good luck Dawn, we hope the training is going well!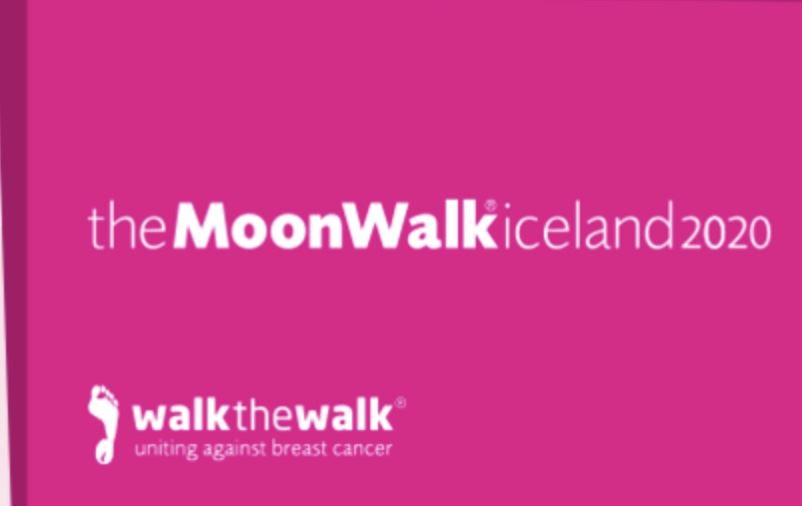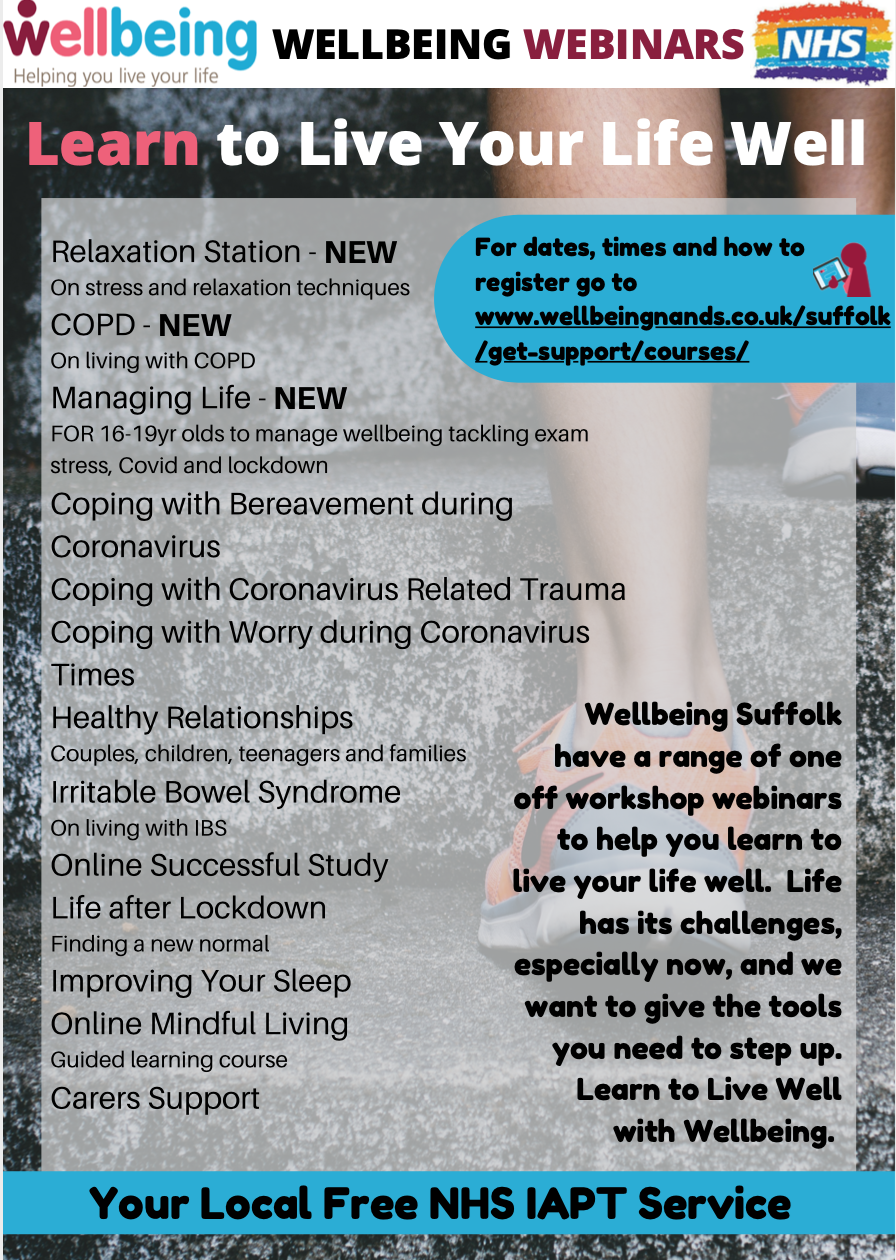 Wellbeing Suffolk Online Workshop Webinars
On the right is a list of the latest one off Workshop Webinars available from Wellbeing Suffolk. They have some new sessions as well as the old favourites. These webinars are completely anonymous sessions where people can come along and learn about how to live life well. If you know anyone who you think would benefit from them then please feel free to pass this email on.
Here is the website link to take you directly to the page you need. https://www.wellbeingnands.co.uk/suffolk/get-support/courses/