Update: Closure of vaccination sites
After today (2nd June), the Haverhill Epicentre will be closing. The Unity Trust Offices are carrying out Covid Vaccines. They are based in Park Road, Haverhill (the old Parkway School). Bookings are made via the National Booking Service or 119.
Do not contact your GP surgery about your COVID-19 vaccination status. GPs cannot provide letters showing your COVID-19 vaccination status."
In preparation for the requests that may arrive in general practice, practices can use the following draft text to inform messages on your websites and to signpost patients to:

"Thank you for contacting the surgery enquiring about COVID vaccination certification.

We are unable to issue this certificate at the practice.

Please see the Gov.uk website for further information.

Proof of your vaccination status will be available on the NHSapp, which is also valuable for accessing your health records and ordering repeat prescriptions.

The NHSapp can be downloaded from here for iPhone or here for android.
Alternatively, you can call the NHS helpline on 119 (from 17 May) and ask for a letter to be posted to you. This must be at least 5 days after you've completed your course of the vaccine, the letter may to take up to 5 days to reach you.
Covid Vaccination Status
From 17 May 2021, people in England who have been fully vaccinated against COVID-19 can demonstrate their vaccination status for international travel. A full course is currently two doses of any approved vaccine. Vaccine status will be available from:
It may take more than a week for your identity to be checked and verified so you can use this service.
If you cannot access the online services, and you have had 2 vaccines, you can request a paper letter from the NHS by calling 119. Only call 119 if you are due to travel abroad in the near future and have had your second dose more than 5 working days ago. It may take 7 working days for the letter to arrive.
This practice is not able to provide you with a letter that shows your COVID-19 vaccination status.
When you're planning your travel, check the latest information on demonstrating your COVID-19 status when travelling abroad on the gov.uk website. Make sure there is time to get proof of your vaccination status before you leave.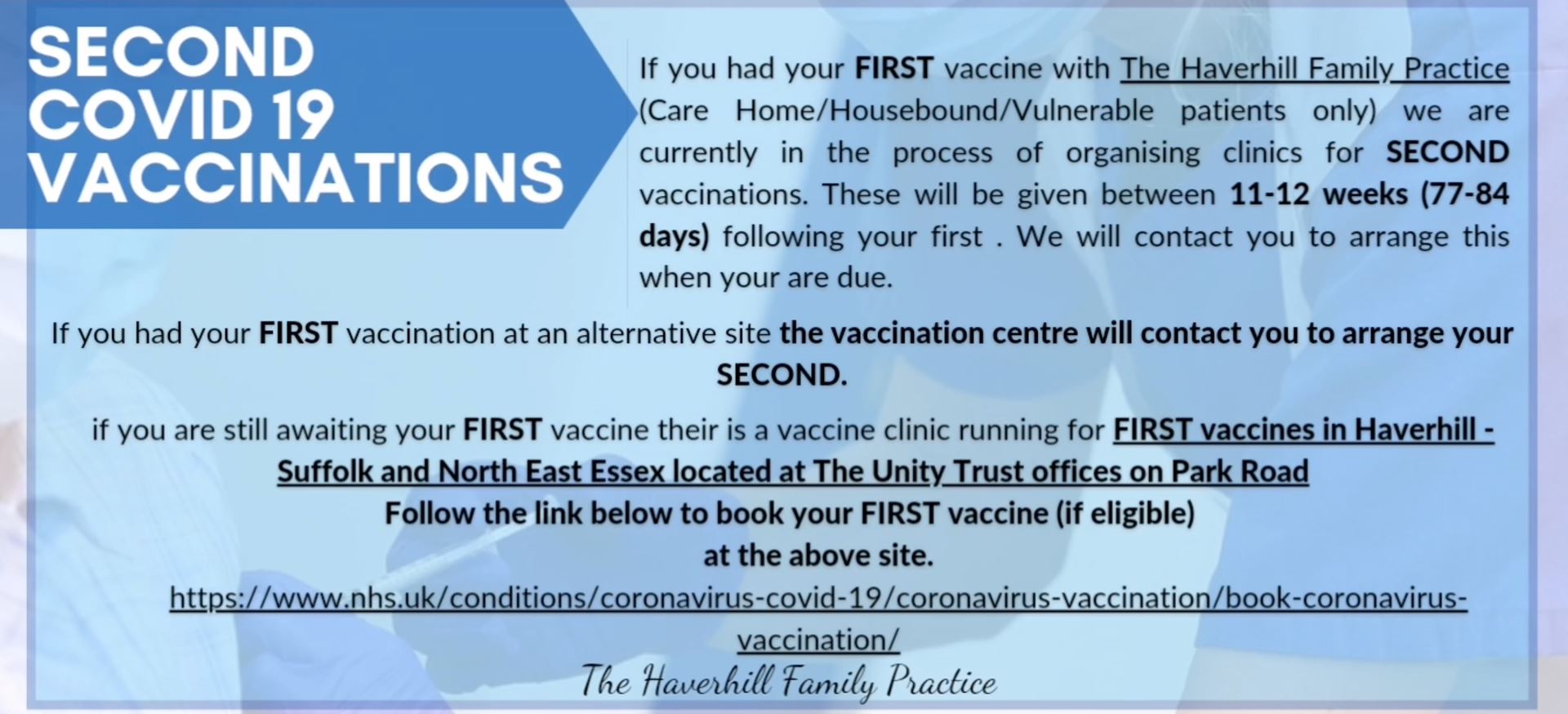 Important Information: Covid Vaccines
HAVERHILL FAMILY PRACTICE IS ONLY PROVIDING COVID-19 VACCINATIONS TO PATIENTS WHO ARE CURRENTLY RESIDING IN A CARE OR NURSING HOME OR THOSE PATIENTS THAT ARE CLASSED AS HOUSEBOUND.
IN LINE WITH GOVERNMENT GUIDELINES ALL OF OUR OTHER PATIENTS THAT ARE ELIGIBLE FOR THE COVID-19 VACCINATION PROGRAMME WILL BE CONTACTED BY THE GP FEDERATION EITHER BY LETTER OR TEXT MESSAGE TO INVITE YOU FOR THE VACCINATION.
THE VACCINATION HUB IS AT THE EPICENTRE ON THE NEW SCIENCE PARK (NEAR THE FLYING SHUTTLE PUB). THE LOCAL CAMBRIDGE BUS SERVICE DOES STOP OUTSIDE THERE AND THERE IS AMPLE PARKING IF YOU DRIVE.
AS A PRACTICE, WE ARE ONLY ABLE TO OFFER THE AZ VACCINE TO THE COHORTS THAT WE ARE CURRENTLY ABLE TO VACCINATE.
FOR INFORMATION ON ELIGIBILITY FOR THE COVID-19 VACCINATION PROGRAMME PLEASE FOLLOW THIS LINK:
Suffolk and North East Essex System have launched a Covid-19 Vaccine website which gives a range of information about the vaccination roll out, links to local networks and organisations and a detailed set of FAQs. There is also information about the vaccination centres and sites across Suffolk and North East Essex with local case studies and sites, including maps highlighting their location. SNEE NHS COVID-19 Vaccination Service (sneevaccine.org.uk)
https://www.gov.uk/government/publications/covid-19-vaccination-why-you-are-being-asked-to-wait/why-you-have-to-wait-for-your-covid-19-vaccine
If you have received a letter, call or text from the NHS or the National Booking Service and you have any questions, please DO NOT CONTACT US as we cannot help. Please try to be persistent and contact this number: 01473921821
Thank you.
26.02.2021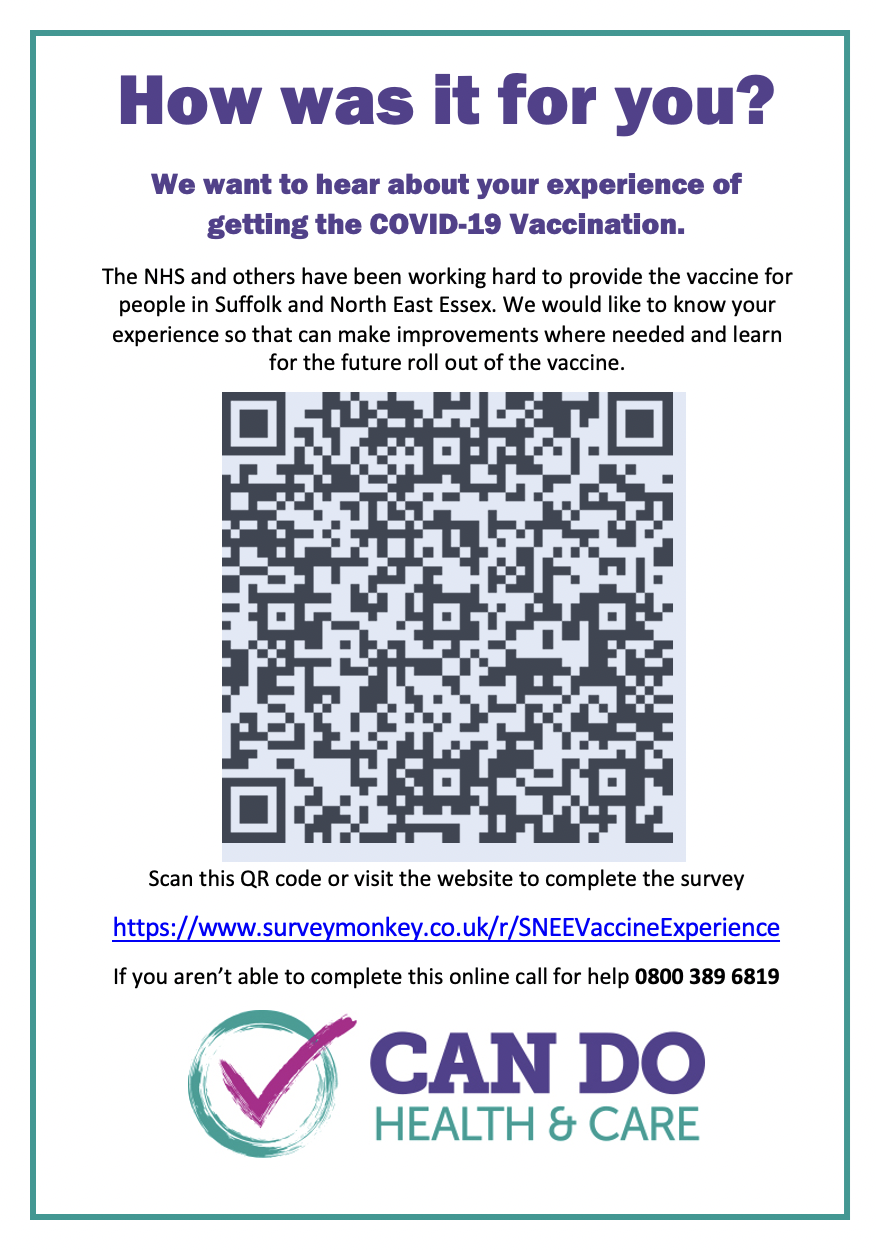 Oxford AstraZeneca vaccine update
New guidance has been issued for the use of the Oxford AstraZeneca Covid-19 vaccine.
This follows further reviews by the independent regulator, the MHRA, and the Commission for Human Medicines, of a very small number of people in the UK who have developed a rare blood-clotting condition since having the Oxford AstraZeneca Covid-19 vaccine.
The MHRA and Joint Committee for Vaccinations and Immunisations have emphasised that the risk of this condition is extremely small and that the benefits of the vaccine outweigh the risks for the vast majority of people. They have recommended that:
Everyone who has had the AstraZeneca vaccine should still have a second dose of the AstraZeneca vaccine, irrespective of age, unless they have had a blood clot or have an existing risk of thrombosis (blood clotting)
People aged 30 and over or who have a health condition that puts them at higher risk of severe Covid-19 disease should still be offered the Oxford AstraZeneca vaccine. The benefits in protecting them against the serious consequences of COVID-19 outweigh any risk of this rare condition.
People aged 18-29 who do not have a health condition that puts them at higher risk of severe Covid-19 disease will be offered an alternative Covid-19 vaccine where available. (This has been recommended as a precaution as people under 30 are at less risk from Covid-19 and not because they are considered to be at particular risk of developing the rare blood clot.)
People under 30 can still choose to have the Oxford AstraZeneca vaccine if this will mean they can be protected more quickly and they have been made aware of the guidance.
Please see the leaflet below that has been produced by Public Health England and the NHS to answer any questions you may have